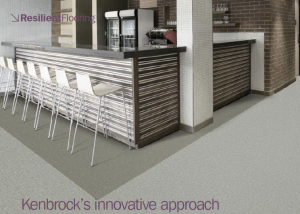 Celebrating its 50th year in the industry, Kenbrock is transforming its commercial vinyl and rubber ranges to meet the demands of the current marketplace.
From illustrious beginnings back in 1966 with the introduction of the Italian Pirelli Rubber range in Australia, Kenbrock Flooring has developed into one of Australia's premier resilient floor covering companies.
"The flooring industry is an ever changing one," said Trevor Morris, Kenbrock Flooring's Managing Director. "In order to stand out from our competitors we have taken the strategic approach of differentiating ourselves through our large and unique collection of designs and colours," he said. Mr Morris said that listening to customer feedback was paramount to Kenbrock Flooring's ongoing success. "It is our customer centric approach to business which ensures we are putting our customer base first in all our decision making processes."
This fresh approach to business has led to several new commercial ranges and services introduced to improve the total package that Kenbrock provides its commercial customers. As part of this program, there are two new homogeneous ranges, a safety flooring range including R12 sheet vinyl and an update of the popular Pinnacle 55 commercial LVT range.
The company has also recently updated its LG heterogeneous vinyl ranges, Supreme and Durable, to meet the ever-changing colour and design trends in the Australian market. Kenbrock Flooring's National Sales Manager, Bill Moore has been an integral part of the Kenbrock team for 28 years and has witnessed the demands of customers evolve.
"Our goal is to provide specifiers, retailers and flooring contractors with a full range of products, which are suitable for major commercial environments – these being education, health, retail and industrial," he said. The long and close relationships that Kenbrock has built with its manufacturing partners has produced a large and ever expanding selection of quality commercial flooring options with up-to-date colour and design options to suit any commercial space.
The company has also increased its service to the specification market by incorporating a team of technical advisors who are available, at any time, to provide assistance on any issues that may arise, whether they are issues relating to meeting technical regulations or an on-site problem such as the subfloor or material(s). This new service also includes the option of on-site maintenance training for any of Kenbrock's product ranges.
The company has a dedicated customer service department which looks after any inquiries relating to the Kenbrock product range, as well being able to arrange a next day delivery on product sample requirements. Currently under construction is a new electronic commercial specification library, which will make the process of specifying Kenbrock's product ranges more efficient.
Bill Moore said that Kenbrock Flooring now truly offers innovative flooring solutions for commercial resilient floor coverings in Australia. "As a 100% Australian owned and operated company we understand the local market and always strive for complete long term customer satisfaction with all we do. That is why all of our products are fit for purpose; meet BCA and NCC requirements; achieve ISO international manufacturing requirements and offer unique design and colour options at a competitive price."