Kenflex is Kenbrock's High Performance Commercial Sheet Vinyl.
Kenbrock is a fully 'Australian owned' company at the innovative forefront of technologically advanced resilient flooring. The company originates and distributes Resilient Floor Coverings specialising in Residential and Commercial Luxury Vinyl Planks and Tiles, Commercial Sheet Vinyl, Residential Cushion Vinyl plus commercial grade Rubber Flooring and Tactiles.
KENFLEX 360 is a high performance, fully flexible, homogeneous Commercial Sheet Vinyl flooring in 2m wide sheets. The product achieves the highest test result in abrasion, being Group T. This result ensures end users of excellent resistance to wear and tear in high traffic areas. Due to its PUR surface protection treatment, the product also has excellent cleaning characteristics and improved resistance to scratching and scuffing.
The product features a non-directional polychrome design incorporating coloured chips to ensure an even colour throughout the thickness. Kenbrock offers a pallet of six contemporary colours allowing for creativity and freedom of design.
Suitable for multi-purpose commercial applications, such as Aged Care, Health Care, Community housing, Educational and Sporting facilities, Retail outfits and Hospitality.
KENFLEX 360 has a densely compacted surface for improved wear and ease of maintenance. Therefore, it is also highly recommended for portable buildings, schools, supermarkets, offices, gyms and restaurants, in fact, anywhere where an easy to maintain, hard wearing floor covering with an attractive and modern appearance is required.
Because of the products great flexibility, it also simplifies the installation in areas such as hospitals where material is skirted up walls and often used for other surfaces like handrails.
Its suitability for hospitals and other medical facilities is reinforced due to this floor covering being resistant to the main chemical products used in healthcare and being non-reactive to residual indentation with a value ≤ 0.04 mm (EN 433). Furthermore, it is Castor Wheel tested and boasts very good Anti-static (<2kV) and excellent Anti-bacterial and fungicidal properties.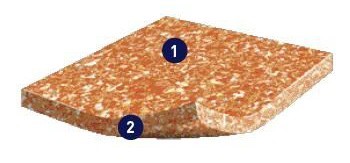 1 – PUR Surface protection layer
2 – Homogeneous Monolayer – Pressed and calendered – Non-directional design
This floor covering has extremely low VOC emissions, more than 40 times lower than the European standards (<10 µg/m3 TVOC after 28 days ISO 16000-6) ensuring a greatly improved indoor air quality. This feature together with the fact that the product is 100% recyclable makes it an excellent choice for the environment.
As part of our sustainable development policy, this product is manufactured in a plant certified with highest quality standards ISO9001 and environmental standards ISO14001 and is backed up by a 10 year commercial warranty.
Image: Advertorial in Australian National Construction Major Project Review – Special Feature on Commercial Flooring, Issue: APR / MAY 2017.